Fix File Drag and Drop on CodePen
Be warned, this blog post has not aged well. It may contain information that is outdated or no longer relevant.
I've been working on a CodePen that lets you drag files from your desktop to drop on the page. Problem is, if you have a pro account, dragging a file over the page causes the assets box to pop up. Normally this is a convenient way to upload assets, but you can imagine how this gets in the way when your CodePen has its own drag and drop mojo going on.
Update: CodePen's Boomerang update has fixed this problem. Hooray! Leaving this post for posterity.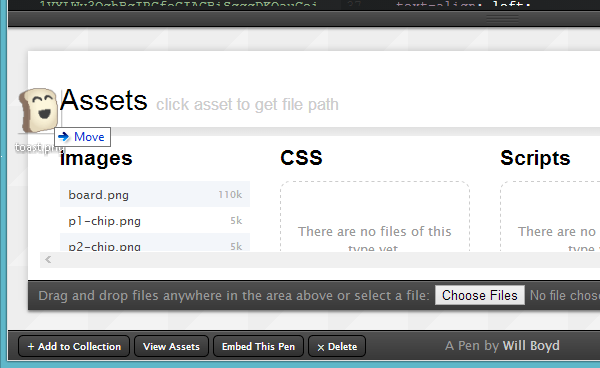 Even worse, the assets box pops up when you drag a file over any CodePen. Essentially, this means that if your CodePen uses drag and drop, all pro users will get a bad demo.
But good news! There's a simple fix. You can catch the relevant events yourself and stop them before they have a chance to trigger the assets box. Just add this to your JavaScript:
document

.

querySelector

(

'html'

)

.

ondragenter

 

=

 

function

(

e

)

 

{


  e

.

stopPropagation

(

)

;


  

return

 

false

;




}

;


document

.

querySelector

(

'html'

)

.

ondragover

 

=

 

function

(

e

)

 

{


  e

.

stopPropagation

(

)

;


  

return

 

false

;




}

;
And here's the same in jQuery, if you prefer:
$

(

'html'

)

.

on

(

'dragenter dragover'

,

 

function

(

e

)

 

{


  e

.

stopPropagation

(

)

;




}

)

;